Welcome to OLLI at Chico State!
>
Print Class List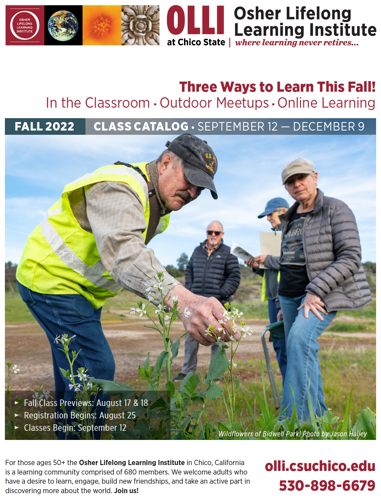 Welcome to OLLI at Chico State!
We are a community of lifelong learners aged 50+ who work together to help create and deliver educational, cultural, and social opportunities – without exams or grades! Faculty members, retired teachers, and members simply passionate about a subject they know well enjoy sharing their expertise with others whose life experience and intelligence enrich the exchange of ideas. With three ways to learn – in the classroom, outdoors, and online – OLLI offers a unique way to explore new topics.
Fall class registration is now open!
You can Join OLLI for our new membership year!
View all fall classes or browse the Fall '22 catalog by topic, day of week, or learning style. You must be signed in to your account to complete the class registration process.
New! View our Newly Added Classes, which were added to the schedule after the catalog was printed.
Easily printable pdfs are also available:
Fall '22 Class Previews
Watch the recording of our Live-Online Class Preview to learn more about OLLI and hear from instructors about their terrific fall classes or watch a short introductory video by OLLI lecturer Professor Eric Bartelink.
COVID-19 Policy: Proof of vaccination is required for all in-person classes. Boosters are not required. Click here for instructions. Masks are strongly recommended in inside classrooms. Masks are always welcome. There are HEPA air purifiers in all four of our main classrooms at The Social Chico. If you are experiencing symptoms of COVID-19 or any other communicable illnesses, such as a cold or the flu, please stay home.